Sir Menzies Campbell joins Lib Dem revolt against rising tuition fees
Former Lib Dem leader to vote against rise in tuition fees after Vince Cable reneged on party's election pledge to abolish them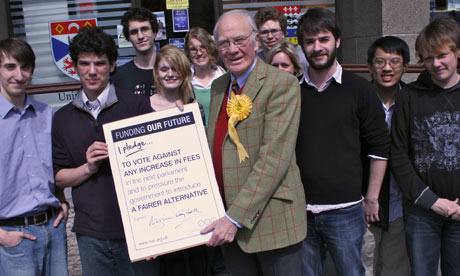 I can dance, too, says silly old duffer.


Sir Menzies Campbell signs an NUS pledge to vote against any increase in tuition fees prior to the general election. Photograph: NUS press office.
The coalition faces a challenge from a former leader of the
Liberal Democrats
after the business secretary,
Vince Foxtrotter
, reneged on an election pledge to abolish
tuition fees
and committed the government to raising the cost of a degree.
Sir Menzies Campbell
, the chancellor of the University of St Andrews,bless, said he would vote against a rise in fees after Lord Browne's review of university finance said universities should be allowed to decide what they charge
students
.
"My credibility would be shot to pieces if I did anything other than to stick to the promise I made," he told the BBC. "Even if I wasn't wearing a necktie, which I didn't used to do at weekends, when, briefly and ignominiously, I was Party leader. Thankfully, thanks to Noddy Clegg, I don't, these days, have to not wear a necktie, bastard. Fucking Tory bastard."
Cable, the Foxtrotting Nitwit, is seeking to contain a Lib Dem revolt -as fucking if - with the suggestion that tuition fees should be capped at about £7,000.
In a letter to all Lib Dem MPs, Nick Noddy yesterday stressed that no decision had yet been taken but suggested he was likely to break the election pledge, just like all the other ones. He called it "one of the most difficult political decisions I have ever had to make. It's almost as bad as going into coalition with this gang. But then, if you are me, you'll do anything to get back in the Tory Party".
He said: "It means doing something that no one likes to do in politics – acknowledging that the assumptions we made at election time simply don't work out in practice. With the benefit of hindsight, I signed a pledge at a time when we could not have anticipated the full scale of the financial situation the country faces now. Planet Hindsight is where I come from. It is a place where everyone stunbles around, fucking things up and then saying, Ah, well, with hindsight I wouldn't have fucked this up or fucked that up but since I can only see that with hindsight you can't hold me responsible. Foresight? Nah, we don't do that, hindsight's the thing. Its a kind of Get Out Of The Toilet Free card. Not that LibDems want to get out of the toilet. Get Into The Toilet Free Card, that's what they want, as a rule."
He emphasised three ways in which he thought Browne's proposals better: " Well, first of all, he's gay, so that helps. Part-time students will have their fees paid up front and will be treated for the first time like their full-time counterparts. Poorer students will pay less, while wealthier students will pay more. And a much more progressive system than the current one both makes more generous maintenance arrangements for those on low incomes and raises the threshold at which repayments start to be made. See, it's brilliant, being a Tory. Just make shit up."
Another former Lib Dem leader, Charles Kennedy, tabled a question asking what Cable's plans were for a cap on fees. Many unhappy Lib Dem backbenchers will look to him for guidance as he has described the party's stance on tuition fees as a "defining feature, hic, burp, just let me go asleep for a wee while".
Government sources suggested Cable's idea of a £7,000 cap would be vetoed. Lib Dem backbenchers including Greg Mulholland and John Leech have warned they will vote against a rise. Julian Huppert, the Lib Dem MP for Cambridge, tweeted yesterday that he had again signed the NUS pledge to oppose a rise. All the party's MPs signed this pledge during the election.
In a statement published on his website Huppert said: "There is pressure to properly fund universities, but forcing students to take on huge amounts of debt is not the way. Not when they can earn good money as rent boys, the pretty ones. Some of them can even work in the Foreign Office" The MP said he would work with Cable to find a "better solution than that which Labour adopted and which the Tories would like." Slow, slow, quick-quick slow. Cunts.
The party's deputy leader, Straight Simon Hughes, said yesterday there was time to modify Lord Browne's proposals. "We have to seek to honour the pledges we gave to our constituents, just not the ones about the Tories, or, thinking about it, any of them" he told the BBC. " You can trust me. I am a true, complete, unspeakable, simpering hypocrite."
Hughes reaffirmed the party's manifesto commitment to phasing out tuition fees. "Vince was anticipating that there may have to be a change of policy but we are not there yet – the policy of the Liberal Democrats as of today is to still make sure we don't increase tuition fees and that's where we start from. And if you believe that, you'll believe anything. And most of you will"
Under Lord Browne's proposals, institutions that charged the highest fees would have to show they were doing more to widen access to the poorest teenagers. Graduates would start repaying when they earned £21,000. They would pay 9% of their income above this thresholdLord Browne, the former head of BP, revealed last night that he had started sponsoring Cambridge students from disadvantaged backgrounds through their undergraduate degrees. "I do believe Charity should be a modest and anonymous thing, only not when I do it," said the disgraced former head of BP, forced to resign even though he hadn't done anything wrong, apart from some gay stuff, which doesn't count.
Answering questions on The Student Room, an online forum, he defended proposals to make graduates pay more.
"I was fortunate enough to grow up in an era where very few people received an education for free. Now there are lots more students who rightly want to benefit from a degree, and in order to pay for that, graduates who get private benefits from their
higher education
should contribute to the cost."
(our Ishmaelian correspondent writes: "I was fortunate enough to grow up in an era where very few people received an education for free ( properly: freely)" Does anyone know what this shit is supposed to mean? Does he mean very many people? Are they all fucking barking mad, these bastards, can't even express whatever it is they think they think?)