The British Honours System Explained.
No, I can't. It is complicated, mediaeval and makes no sense to man nor beast. You can nominate your next door neighbour for services to getting out the bins on time. 19% of the awards in this New Year Honours List were reserved for people for their services to the Covid Industry. Sportspersons, acting persons and mass murderers all get their gong. Fucking ridiculous system. This is why, dear Foreign Readers, there are so many lords, ladies, Sirs, Dames, Bart.s etc - every year another cohort gets honoured.
Regalia of the Knight of the Garter


The clothes, the clothes! They go out in public wearing this lot and nobody is allowed to laugh their socks off. It features velvet - one of the fabrics that the Sumptuary Laws forbade non-aristocrats from wearing. Yes; this country had laws to regulate and reinforce social hierarchies through restrictions on clothing, food and other luxury expenditures. They made it easy to identify social rank and privilege and were therefore a tool of social discrimination, preventing commoners from imitating the appearance of aristocrats. During the reign of Good Queen Elizabeth the Virgin, all men were required to wear a hat out doors. You couldn't choose the style of hat you wore. If you were a commoner, you were required to wear a woollie beanie.
The Most Noble Order of the Garter is an order of chivalry founded by Edward III in 1348 - the origin myth has it that the Garter in question was dropped by a female and the chivalrous monarch not only picked it up and wore it himself: thus the Order's motto
Honi soit qui mal y pense (Shame on him who thinks this evil), but set up a club to mimic Arthur's Knights of the Round Table,
Garters - this sort of thing.

wearing stockings, suspenders, velvet and silly hats.
His Serene Highness, the Lady Sir Tony Blair (Motto: travel the world, meet interesting people and kill them) has finally achieved this highest order, joining a select company that includes Garter Princes.
Such is the public outrage at Sir Tony's elevation to the Order of the Suspender Belt ("you can fool all of the people some of the time, some of the people all of the time, but you can't fool all of the people all of the time" - what you talking about? Of course you can)
Speaker Lynsay Hole

that Speaker Lindsay Hoyle has put his foot down and told the Queen (God Bless You Ma'am) to elevate all the Prime Ministers to the Suspender Belt Club,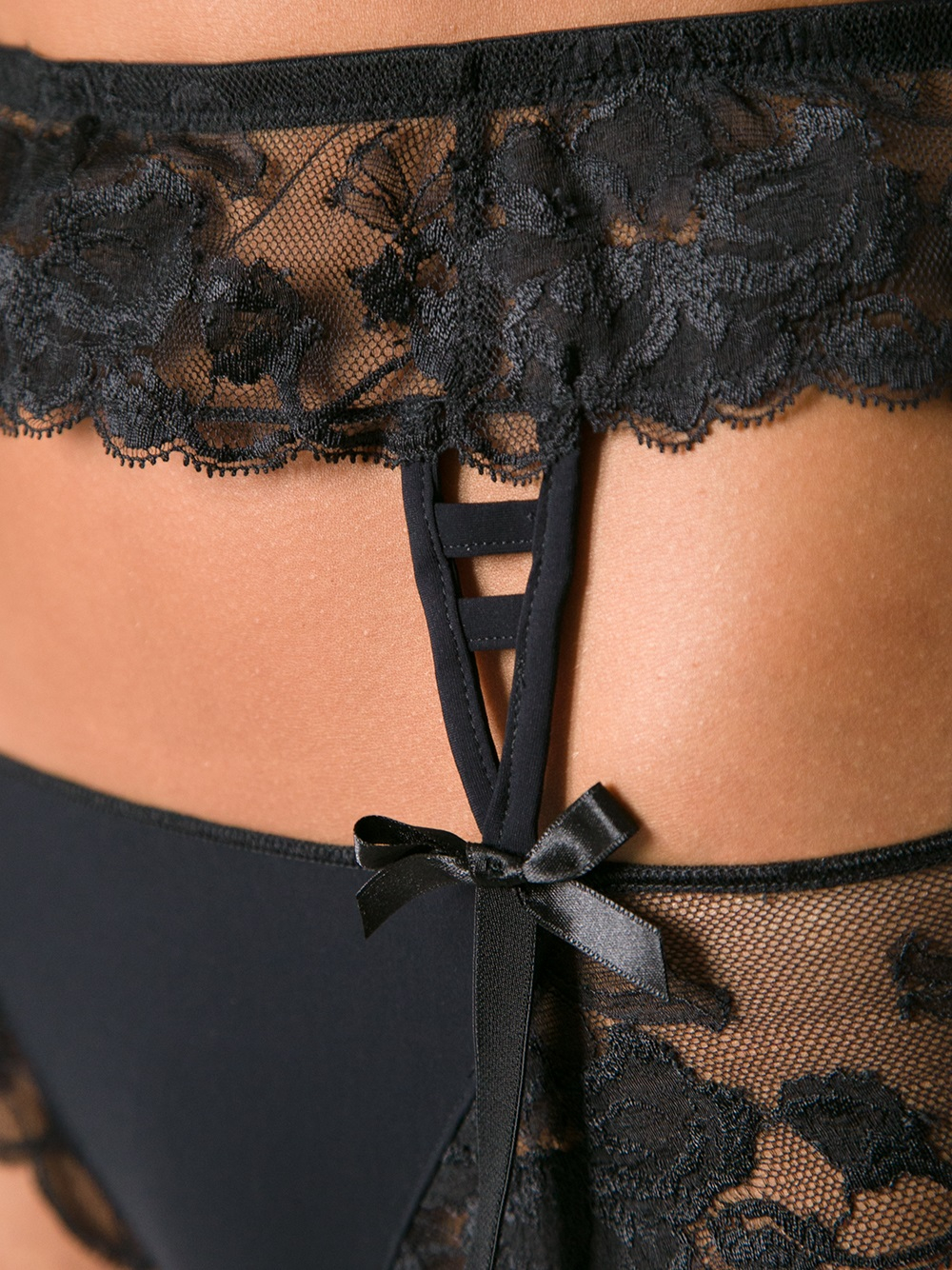 on the basis that the decision to honour Sir Tony will become, in a retrospective piece of white-washing, just what happens and the elevation of the bare-faced, outrageous, anti-human, anti-Christian, monstrous war-mongering, american lick-spittle, cancerous, murderous bastard with a Catholic-Conscience and many many billions of your great british pounds in the bank, yellow-pus rancid former Prime Minister sir-fucking-tony will not seem to be the blatant shitting in the face of the ordinary people that it is. Gods, if anything should provoke a little civil unrest, this is it. Just wait a few years, until the indignation, horror, blood-shed, amputations have kind of faded away, and then let him have it - the Garteriness, that is. I wonder how much he paid for it? I know how much the peoples of the middle East have bloody paid for it. And Now! This Year! Great timing - the year after the disgraceful withdrawal from Afghanistan.
Yeah, right.
Anyway, did you notice up the page a little, His Princely Garteriness Andrew of the Allegations coming it all that in his waving white plumes and velvety I'm entitledness?
One of the things about the Garter Club is that, should a Knight disgrace the honour of the Order, measures are taken to remove said disgraced Knights. So far, forty men have been dealt with, thirty of them subject to the formal process of degradation, which takes place in the quire of St George's Chapel.
In 1521 Edward Stafford, Duke of Buckingham experienced his degradation at the feast of St George. The Officers of the College of Arms were present, together with six Knights of the Garter. The Garter King of Arms announced that:
"the said Edward late Duke of Buckingham be degraded of the said noble order and his arms, ensigns and hatchments clearly expelled and put from among the arms, ensigns and hatchments of the other noble knights of the said Order
to the intent that all other noble men thereby may take example hereafter not to commit any such heinous and detestable treason and offence, as God may forbid they should. And God save the King."
Whereupon one of the heralds, who was concealed in the upper level of the quire woodwork violently cast down Buckingham's crest, banner and sword at the feet of the assembled great and the good. They then kicked the arms and achievements down the full length of the nave, out of the west door and into the ditch beyond.
Now that I'd pay to see. Can you just imagine Andrew's stuff being kicked out the door by his mum, sister, older and younger brothers, and nephew? D'you think it will be on the telly? Will we have David Dimbleby solemnly intoning, describing the frocks, velvets and silly hats, with a bit of BBC suitably reverential music?
Because there's no two ways about it. Ghislaine's verdict must reinforce Virginia Giuffre's civil case against Andrew.
the prince, the prostitute and the procuress


Apparently, at the sentencing exercise, victim statements will be read, which will include the statements of Epstein's victims who did not give evidence in the case against Ghislaine - that would be Virginia, presumably, who was not called in aid in Ghislaine's trial.
She's a determined little thing, that Virginia (was ever a girl so mis-named?).
Born in 1983, she was molested by a close family friend from the age of seven, ran away at the age of 13, before becoming the companion of a 65 year old sex trafficker, Ron Eppinger. He ran an international sex trafficking business known as the model agency Perfect 10, and subsequently pleaded guilty to charges of alien smuggling for prostitution, interstate travel for prostitution and money laundering. Virginia returned to live with her father when she was 14. He was a maintenance manager at one of Trump's properties where she became employed as a spa attendant. In 2000, she was spotted by Ghislaine and offered a career as a masseuse. She was 16, going on 17. She received training as a masseuse and was employed by Epstein. Her employment terms and conditions seem luxurious, but included an expectation that she would have sex with Epstein's friends. Since breaking with Epstein, she has pursued a number of lawsuits:
In January 2015, in an attempt to join the federal Crime Victims' Rights Act lawsuit, she submitted her sworn affidavit stating that Epstein trafficked her to Prince Andrew and Alan Dershowitz and that Maxwell worked as procuress to Epstein.

That was disallowed by a federal judge in April 2015.
As a result of Giuffre's allegations and Maxwell's comments about them, Giuffre sued Maxwell for

defamation

in federal court in New York in September 2015.

The case was settled

out of court

in June 2017 with Maxwell reportedly paying Giuffre "millions"
On August 9, 2021, Giuffre filed a civil lawsuit against Prince Andrew

in New York alleging that she was forced to have several sexual encounters with the prince in the early 2000s after being trafficked by Epstein when she was 16 and 17 years old. Andrew refused to accept service of court papers, but Giuffre's lawyers filed an affidavit stating that Andrew was served with the papers on August 27.

On October 29, Andrew's attorneys filed a response, asking a US judge to dismiss the lawsuit according to a sealed settlement reached between Epstein and Giuffre in 2009 which could absolve Epstein, Andrew and numerous other people "from any and all liability".
Rina Oh sued Giuffre for defamation in October 2021. Giuffre accused Oh of helping traffic girls for Epstein, while Oh maintains that she was a victim and that she has never helped traffickers.
These are civil cases, not criminal cases, and it must be remembered that the standard of proof is different; in the US, as in Britain, the criminal standard is "beyond all reasonable doubt" whereas the civil standard is "on the balance of probabilities" generally accepted as 51% more likely to have happened than not, although the more serious the accusations, the more strictly is the balance of probabilities interpreted. As these are civil cases, the resolution is not a criminal penalty, but a financial settlement. Andrew's team have opined that Virginia Giuffre's motivation is for "another payday". I'm guessing that, although Andrew is perennially strapped for cash, which is why he fell into Epstein's clutches in the first place, his Mum would rally round, and she's not short of a bob or two.
Ghislaine Maxwell's situation, however, is more parlous. Money is unlikely to get her out of the hole that she's in. And the Metropolitan Detention Centre certainly is a hole, with remand prisoners held in conditions that are equivalent to being tortured, with rats entering through toilets in cells and the prison officers preventing suicide by shining their torches into prisoners' faces every 15 minutes. These are remand prisoners - either not yet convicted or not yet sentenced. America has an appalling track record for the way it treats its prisoners: extreme rendition, Guantanamo, Metropolitan Detention Centre. If a state is judged by the way it treats its vulnerable, its sick and its prisoners, then America would have to struggle to be accepted within the family of civilised nations, however amusing its sit-coms.
Ghislaine has been convicted of:
conspiracy to entice a minor to travel to engage in illegal sex acts,
conspiracy to transport a minor with the intent to engage in criminal sexual activity,
transporting a minor with the intent to engage in criminal sexual activity,
conspiracy to commit sex trafficking of minors,
sex trafficking of minors.
These charges are what are known as either/or charges in Britain: conspiracy to do something, or the doing of the thing. Seems wrong to convict of both - and conspiracy generally carries a stiffer penalty than the thing itself.

The combined charges could carry a sentence of 65 years.
America is, of course, a dreadfully Puritanical country - well, they are descended from fringe religious cults; and they have an astonishingly schizophrenic view about sex - ranging from Hollywood's meat industry to the celibate Bible Belters; and everything is complicated by the fact that there are different legal systems and different penalties in each state: so the age of consent to sex varies from 16 to 18 across the States. When the BBC speaks of "underage girls", when you read "minors" in the charges, these are not little girls being referred to. They are not pre-pubertal. Ghislaine Maxwell was recruiting, training and supplying teenagers to older, wealthy men.
Maybe that's not very nice. Maybe we'd like there to be no prostitution. But there is. And it is commonplace. Everywhere. Pimps are usually male. Prostitutes usually run frightening risks in their attempts to attract punters on street corners, alone and in the dark, to avoid beatings by their pimps. In 2009, it was estimated that there were 100,000 prostitutes in Britain.

180 prostitutes were murdered in Britain between 1990 and 2015.

University of Leeds research in 2015 found that 47% of prostitutes had been victims of crime, including rape and robbery, while 36% had received threatening

texts

, telephone calls or emails.

The mortality rate for prostitutes is 12 times higher than the national average.
This rich people's game that Epstein, Maxwell and Andrew were engaged in is a world away from the harsh reality that most prostitutes experience. Ghislaine Maxwell has not murdered anyone, there is no suggestion that women have been beaten, raped or physically abused. When the charges or civil allegations speak of "rape" it is in the sense that a person under the age of consent cannot legally consent to sex, not that there was non-consensual penetration.
In Ghislaine Maxwell's trial and conviction we have seen trial by media, we have seen censorious condemnation of behaviours that have been commonplace throughout human history, we have seen jealousy of a rich and beautiful foreigner, we have seen schadenfreude at its worst, whipped on by the media. Ghislaine Maxwell could have left the United States - and should have done. She is a British citizen. And a French citizen, born in France - either country would have treated her with more decency and humanity than the United States. I don't suppose the Home Office will do much to have her brought home to Britain to serve her sentence in a British prison - although not the best, anything is better than the American prison estate, its conditions and the brutal indifference of its guards.
I hope her appeal is successful. And that she doesn't have to sit in a cell in the Metropolitan Detention Centre whilst awaiting her appeal.
...............................................................

Nothing from mr ishmael this Sunday, but
the two anthologies of the works of mr ishmael and his young friend stanislav:
Honest Not Invent and Vent Stack are available to buy for mere money from Lulu or Amazon. It is cheaper to buy from Lulu.
Register an account with Lulu to save a couple of quid, as going straight into the link provided below seems to make paypal think it's ok to charge in dollars, and apply their own conversion rate, which will put the price up slightly for a UK buyer. Once the new account is set up, follow our link; a pop-up box asks for age confirmation - simply set the date to (say) 1 January 1960, and proceed. (If you type the title, the anthology will not appear as a search result until the "show explicit content" box - found at the bottom left by scrolling down - has been checked. You may also see the age verification box, as above, at this point.)
The full title is "Vent Stack love from stanislav" by ishmael smith, and the cover you'll see is red with white titles and a picture of Buster the Previous Blog Dog having a green thought in a green shade.
https://www.lulu.com/en/us/shop/ishmael-smith/vent-stack/paperback/product-q8jzk2.html?page=1&pageSize=4
Or...
shorter link, which might make it easier if you wish to paste it into an email and tell a friend:
Honest, Not Invent is available in paperback or hardback.
https://www.lulu.com/en/us/shop/ishmael-smith/honest-not-invent/hardcover/product-njr7vg.html
https://www.lulu.com/en/us/shop/ishmael-smith/honest-not-invent/paperback/product-wq2kpg.html
At checkout, try PROWRITINGAID15, WELCOME15 or TREAT15 in the coupon box, which takes 15% off the price before postage. If this code has expired by the time you reach this point, try a google search for "Lulu.com voucher code" and see what comes up.
With the 15% voucher, the book (including delivery to a UK address) should cost £10.89