Of course, when the Obamadrama team scripts a drone massacre of wogs, or when they permit Dave HamFace and Mick Fallon to murder some British wog citizens abroad then these are wise, considered and entirely justfied actions performed by the leaders of the FreeWorld, the better to protect we, their subjects.
When we torture
without end some hapless

ragheads, bartered to the CIA on the streets of Karachi in exchange for guns, drugs, warlordships or even presidencies, this barbarism is portrayed as Freedom's Last Great Hope, manifest.
When Squadron Leader Rupert Golightly-Jockstrap napalms a playground or ten, strafes a wedding party or a funeral, in the furtherance of the Haliburton-GlobaDeath-JPMorgan-Tony'n'ImeldaBlairplc International Organised Crime Bonanza he is acting in the spirit of the Few, those heroes who, commanded by Uncle Sam, (David Cameron, c2010) won the Battle of Britain.
Goodness, though, comes at a high price, the evildoers simply won't be corrected and lo, now we witness the Martyrdom of the Holy Gender Contiuum, it's victims, may their invented names live forevermore, already scourged and whipped by society's refusal to applaud their elastic sexuality, its failure to endorse their impertinent stupidity, now lie dead in Celebrity's mortuary, flashmourned the world over; their lives almiosr infinitely more valuable than those of hundreds of thousands of Iraqis, whose murders were never even counted, save by lonesome, derided medics, journalists and activists.
The Lancet study's figure of 654,965 excess deaths through the end of June 2006 is based on household survey data. The estimate is for all excess violent and nonviolent deaths. That also includes those due to increased lawlessness, degraded infrastructure, poorer healthcare, etc. 601,027 deaths (range of 426,369 to 793,663 using a 95% confidence interval) were estimated to be due to violence. 31% of those were attributed to the Coalition, 24% to others, 46% unknown. The causes of violent deaths were gunshot (56%), car bomb (13%), other explosion/ordnance (14%), airstrike (13%), accident (2%), unknown (2%). A copy of a death certificate was available for a high proportion of the reported deaths (92% of those households asked to produce one).[33][34][35]
As to the fatalities suffered by the Blair-Bush Colaition of Greed, hostile-fire deaths accounted for 3,777 of the 4,799 total coalition military deaths, the other thousand or so being the result of friendly-fire fuck ups.
I think that's about half a per cent of all the deaths in the Iraq Invasion were among Coaltion troops. And it is these fatalities which arouse such feeble condemnation as there still is.
In a recent trying and difficult Jimmy McGovern TeeVee play, Reg, Tim Roth played Reg Keys, the father of one of the six Military Police abandoned by the Army to a savage death in Afghanistan. Enraged by Blair's gross pantomiming for the US Senate, Reg decided to fight him at the next Sedgefield election. I remember the events, I remember the shocking Redcap deaths and I remember being irritated by Reg, by Rose Gently, in Scotland, in fact by all the parents bleating that their sons shouldn't have been sent to war by Vice and Greed, as though the Army really was just a well-paid opportunity ot learn a trade and then retire to Civvy Street.
Moving though Reg Keys' determination was and clever as was the splicing of Roth into this footage of a shifty-looking Blair being harangued by Reg at the election count
I found the most telling dramatic moment to be, counter-intuitively, when a man he was canvassing roundly rebuked Reg on the doorstep:
Th'was reet, mon, t'kill your lad, he was invadin' their fucking country, they wasn't a fuckin' insurgency, bonny lad, they was the fuckin' resistance.
Another said, Och, away man, there were allus two things I tolt my lads, nae fuckin motorbikes and dinnae join the fucking army. What did ya think would 'appen?
Both of Mr Keys' interlocutors, back then, were presaging, in their way, the inevitable flowering of Iraq's poisonous seed - the HeadChoppers' Revolt and its satellites, in Paris, Belgium and now Florida.
Tim Roth, who played Reg Keys, is forceful in his insistence that Blair belongs in handcuffs, behind bars.
If only the mourning Floridians were so clear-sighted.
Mr Keys went on to win 4000 votes, although the stupid fuckers of Sedgefield voted Blair comfortably back into Number Ten. I expect many of them are now voting UKIP. Reg is a bold attempt to blow oxygen on the embers of Blair's criminality, although the hedging which will surround the report by the useless bastard, Chilcott, will inevitably extinguish them completely, and Tony and his doxy will grin at us until Satan calls them home. It's on the i-thing, if you have the stomach.
But Uncle Sam and his sense of proportion.
Estimates of deaths caused by the American War in Vietnam range from 1,500,000 to 3,500,000 of which 52,800 were US servicepersons; far and away the most important 52,800, the other coupla million were just gooks. We have been enculturated by Hollywood and the rest of the Empire Propaganda Initiative to mourn and worship the tiny handful of US servicepersons named on the Vietnam Memorial and to obliterate from our minds the millions of wogs and slopes whose deaths are utterly meaningless.
And so it will be with Florida.
There is such feasting to be had over this grim event that skymadeupnewsandfilth and the PBC probably don't know from which corpse to take their first mouthful. And there's the rub, not bad enough that a roomful of revellers are shot to death, their families given a taste of life in Baghdad or Kabul or Gaza but the whole thing will become an extravaganza of degenerate, neo-liberal elitism. The bald fact that vile US overseas behaviour has prompted a reaction-in-kind will be coddled in some bogus, buttery bullshit about minority rights. They are dead or wounded, that's bad enough, how they fucked one another is irrelevant, although that, errant and butchered genitalia, will become the cause celebre.
And people call me cynical
I would and have gone to the wall that John might love George but I'm fucked if I'll raise a finger to help John pretend to be Susan; just you watch, though, gay vicars up and down the land, 'busloads of Sandi Toskvigs and Steven Frys, Graham Nortons and Julian Clearys, heterosexualists of every persuasion will seize on this event to damn the curse of straitism. Sir Elton, where are you, when your people need your trashy minstrelsy?
Gay global hysteria should on this occasion be neither here nor there, we are well accustomed to it,we are obliged now to view everything through a hissy, mutant prism, hectored into seeing the norm as abhorrent; this is primarily a mass homicide, no greater or lesser for being perpetrated against a sub-grouping which the killer considered blasphemous.
What we are witnessing is another perversion of reality, this is an act of war - as Mr Key's tormentors said, what the fuck do we expect to happen when we run riot over other cultures and religions and races and call it Freedom?
That will all be sideswiped, though, as we swallow the line that the Massacre of the Blessed GBLTers is the worst such act, the worst shooting in US history.
The fact that the United States, itself, is the modern home of slavery, racism, ethnic cleansing and global state terrorism is usefully ignored by those commentating shrilly on this relatively minor skirmish, for in massacre after massacre Uncle Sam's heroic military forces first practised their warfare of liberation on the native American.
The Massacre at Wounded Knee is probably the best-known episode of Uncle Sam's ethnic cleansings, although there are scores of others, in the nineteenth and early twentieth centuries alone.
As to seldom learned US history, consider the massacre of Wounded Knee.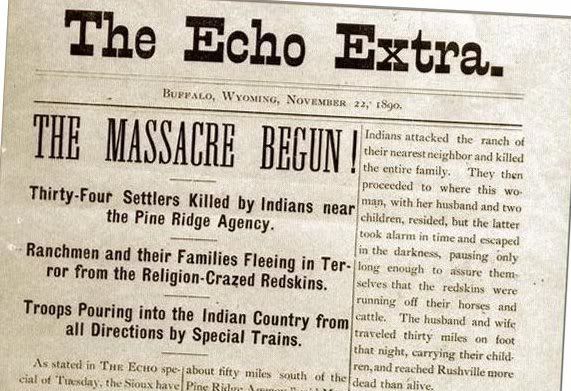 December 29, 1890
Briefly, depending on who does the counting (and numbers are hotly contested between "official" sources and the Lakota people), between around 350 to over 500 people were shot down in a mass slaughter on that date. Most of the people were sick, starved, and exhausted from being pursued by the US cavalry. They were attacked at dawn. A great number of those slain that day were elderly, very sick, or infants. Nursing mothers were shot in the back, babies were tossed into the air as targets. Corpses lay frozen in the snow for days afterwards.
A mass slaughter by gunfire.
In 1923, in Rosewood, Florida, in a bout of Jim Crow penis envy, scores of negroes were lynched, castrated abd burnt-out of their homes and churches, with the connivance of lawnforcement and state government
Somehow, though, this lone, Afghani-US citizen, yesterday, in Florida, with his fifty or so victims, has eclipsed the horrors perpetrated by the KKK, by the Sixth, Seventh,and Tenth Cavalries; by pissed-up militia gang-rapists, by KuKluxKlanners and by the entire filthy, corrupt railroad and cattle baron establishment, by America's nobility, as squalid as any other.
Native Americans, though, like slopes and gooks overseas, and like niggers at home, well, they don't really, what's the word, count, that's it, they just don't count.
Unless we start valuing the lives of others as much as we do our own is seems only fair to me that we anticipate a shooting party like yesterday's coming, very soon, to a nightclub near us.